Wounded Warrior Project admits it is anti-gun
. Read the whole thing.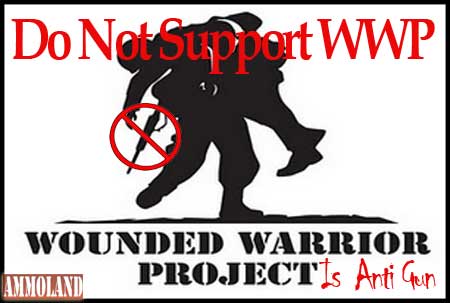 MANDEVILLE, LA --(Ammoland.com)- Does the Wounded Warrior Project (WWP) have a bias against guns and gun makers?
Two weeks ago that would have sounded crazy, but this week many shooters are convinced that it's true. Hundreds of hunts and shoots are held as fundraisers for the WWP, and gun companies donate to WWP for its projects. How could it be that this $185 million (2013 projected revenue) outfit could be anti-gun?
It started with a simple invitation — I wanted someone from the Wounded Warrior Project to join me for the Veteran's Day episode of my national radio show, Tom Gresham's Gun Talk. I had no idea it would turn into a national dustup which now has the gun rights community in a turmoil — so much so that people are burning their Wounded Warrior Project shirts.
We were disappointed when the Leslie Coleman, PR director for WWP, said they couldn't come on the show, but that happens. Schedules don't mesh, things happen, but that's not uncommon. No big deal. Except that Ms. Coleman said they were declining because we "are related to firearms."
"While we appreciate the interest in having a WWP representative on your show on Veterans Day we are not able to participate in interviews or activities with media/organizations that are related to firearms," said Ms. Coleman in her email.
That really rocked us because we knew of all the firearms-related activities used to raise money for WWP. I asked for clarification, and Coleman reconfirmed their position. That Sunday I talked about it on the air and sent out a tweet (@guntalk) with the information.
Some doubted that I had reported it correctly, so we posted the entire email exchange on our Facebook page. http://www.facebook.com/notes/gun-talk/wounded-warrior-project-email-exchange/10151354082553313